Rayellen Smith; Activist with a Big Heart and a Big Skill Set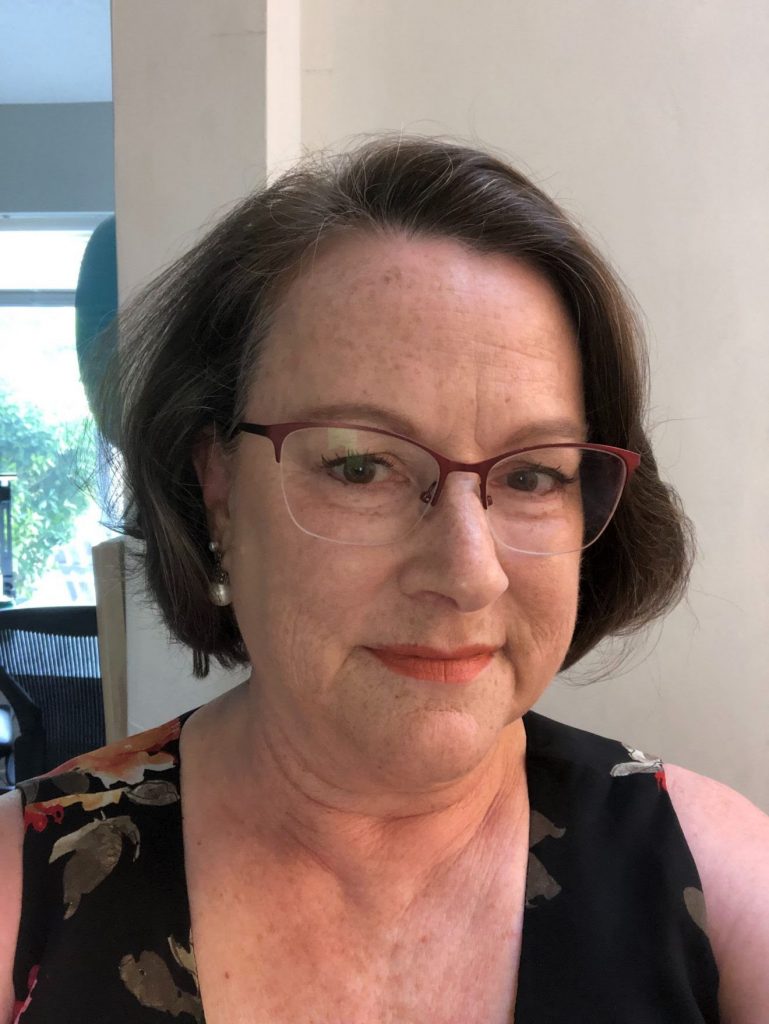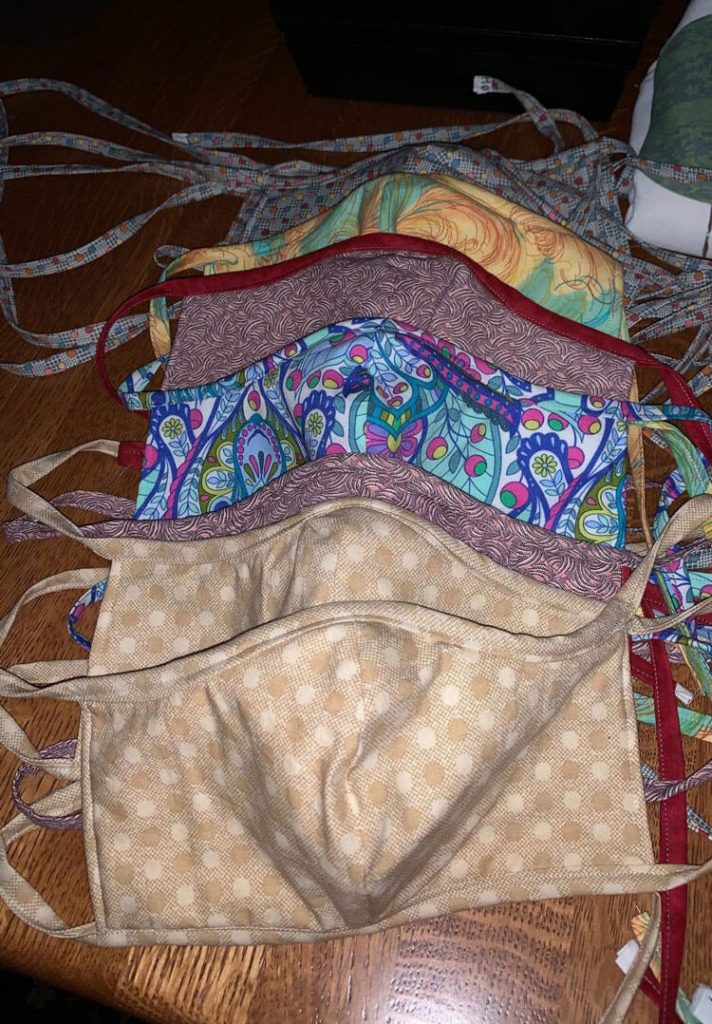 West Side Democrat Rayellen Smith has always been at the forefront of a movement that helps others.  After the 2016 Presidential election, she paired her organizing talents with her despair and was elected as the President of Indivisible Nob Hill shortly after merging with her own Indivisible group. Indivisible Nob Hill is progressive, activist non-partisan political organization that now boasts more than 180 dues paying members and more than 1200 people on its mailing list.  One of their main goals is to defeat Donald Trump in 2020 and to support progressive candidates up and down the ballot.
When COVID-19 hit in early March, Rayellen again took immediate action for the good of a cause.  This time, she used the sewing skills she learned from her grandmother to make facemasks for a friend in Seattle.   Rayellen learned that her friend's husband, a brain surgeon, and his colleagues were required to ration their N-95 masks during their rounds by wearing them all day rather than being allowed a new mask for each patient.  The majority of the supply of N-95 masks was being diverted  to medical staff treating  COVID-19 positive patients.  
Her friend was very worried about her husband not having enough protection, and shared an article with Rayellen about how fabric covers used over an N-95 mask could prolong the life of the precious commodity that nurses and doctors need to protect them from deadly contagious viruses.
 And just like that – another movement was born. This time, in Rayellen's living room behind a sewing machine.
"Within a week, I made about 20 mask covers for the brain department at this hospital in Washington state," said Rayellen, who then posted about her experience on Facebook. After that, she said, people were begging for their own.  "I made some masks for a cancer-mom in Pennsylvania who couldn't attend her son's cancer treatment because the hospital didn't have masks for family members, and she passed some of them out to other family members."
Since then, Rayellen has made about 300 masks, and the recipients of her talents and her good deeds span the globe.  She reports making them for elderly family members across the country, and even sent one to an aunt of a friend in Switzerland. "Every Sunday, I'm mailing 20 packages of masks and have done so for the last 6 weeks." 
Her masks have also made it to one of the hardest hit areas of the country – the Navajo Nation in Northwestern New Mexico.  She was contacted by her friend, Liza Rose Yazzi, who lives on the Navajo reservation and requested masks for her three cousins working as nurses in hospitals there. This past week, Sandoval County Treasurer Laura Montoya, a Democratic candidate for U.S Congressional District 3, took some of Rayellen's mask to the Navajo Nation along with other scarce necessities such as water.  
"I was definitely doing it before a lot of other people were, and to mixed results," she added.  She recalls the initial responses from medical professionals about how masks weren't really helpful. "There were people saying, 'Oh, they don't really do anything,' and there was a lot of back and forth on what the guidance was.  Because I had read the study that showed they extended the life of an N-95 masks, I just kept making them and so far, I've never had a surplus."  
On May 13, Governor Michelle Lujan Grisham made face masks mandatory in public. Rayellen agrees that the Federal response to the crisis has definitely been less than stellar after the White House got rid of President Obama's pandemic plan.  "That's why we're in this position." 
Rayellen is very worried about the pandemic and its impact on asylum seeks in detention centers. Indivisible Nob Hill and other faith-based organizations have sent letters to Governor Lujan Grisham about releasing the detainees and allowing them to be reunited with their families. She is also concerned about the homeless population and wonders if there has been enough attention paid to people who are living on the streets and in shelters in our own city. 
And if spearheading a large activist organization and making masks for the masses isn't enough, Rayellen's full time job also makes her a trailblazer of sorts.  She works in the learning and education department for PriceWaterhouseCoopers, PwC, a large international business consulting firm that is building an application to help retrain displaced workers.  The application, called "Digital Fitness Assessment," was initiated one year ago as the company recognized the impact of technology and artificial intelligence on the future of the workforce. 
"It became clear that there was a business need and a humanitarian need," Rayellen said.  As a result of the pandemic, the company has made the application free and it now reaches about 250,000 users around the world. "We wanted people to have a chance to start thinking about how work is going to change and learn different ways to upskill themselves."  The application is available in the Appl App store and on Google Play as Digital Fitness Assessment.
Rayellen has a unique talent of figuring  out what her community needs and how to deliver it. "I am very fortunate to have a strange set of skills that translate in a bunch of different ways," Rayellen said.  "And I'm also lucky that my grandmother taught me how to sew when I was 8 years old and I have loved it ever since then. Being in a place where I have the means and the time and the ability to be useful in that way — that's the thing that has to happen.  There are a lot of things I can't do, and so I try to maximize what I can to be of best use."  
We can't wait to see what's next.